In January 2013,
The New York Times
magazine had
a cover story
of George Saunders'
Tenth of December
, calling it "The Best Book You'll Read This Year." What's remarkable about this accolade, to me, is that Saunders' book is not a novel or a nonfiction exposé, but a short-story collection. And it's not just the Times going nuts for Saunders: he is everywhere. He's been interviewed by the Times, The Huffington Post, The Paris Review; he was on Fresh Air, Charlie Rose, even
the Colbert Report
.
We've got more, too: Karen Russell's
Vampires in the Lemon Grove
has made a huge splash, as has Yoko Ogawa's
Revenge
. Recently when I was on Facebook, I saw NPR Books not just recommending I read Claire Vaye Watkins'
Battleborn
, but yelling at me to do it. "YOU MUST READ THIS NOW!" (They really used all caps: it worked. I obeyed.) Junot Diaz, a mainstay of
The New Yorker's
fiction section, recently released
This Is How You Lose Her,
to gushing praise. Alice Munro's
Dear Life
has been called "stunning," "masterful," and "brilliant," by various major reviewers, with Munro herself enthusiastically labeled "the best short-story writer in English today" by Booklist. It's not just that novelists are putting out a few short-story collections: these are writers who
specialize
in the short story. And it's working for them. Their collections are selling.
What is going on? Ten years ago, I never read short stories. I didn't see them on bookstore shelves, and nobody was talking about them. I'm not sure they were really being made, except singly for publications like
The New Yorker
and
The Sun
. The last time most of us read short stories regularly was in high-school or college, when we were assigned them. Why the resurgence? Shorter attention spans, perhaps?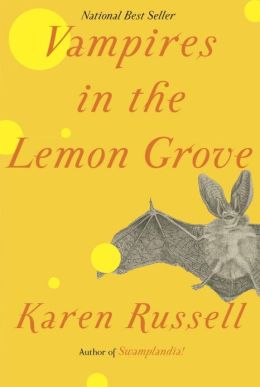 Whatever it is, I'm caught up in it. I inhaled
Tenth of December,
which really is one of the best books I've read in years. (When I first put it on the library hold list, there were eighty holds ahead of me. Eighty! I have never seen a hold list that long.) I gobbled up
Revenge
and
Battleborn
, too. I have read other collections by Diaz and Munro and will read the new ones as soon as they come in from the library. I've never read Russell but I've heard her read excerpts from
Vampires in the Lemon Grove
on several podcasts now, and I am already hooked, so that's also on the library hold list. (Thirty-six holds, in case you were interested.)
So apparently I love short stories. I love to read them, and I enjoy writing them. Some people don't. I think I get the reasons for both: on the pro side, they are bite-sized. I love reading fiction in general because I love exploring alternate realities, other lives, and I get that many more of said with a collection of short stories. All those worlds, all those ideas, all those characters: it's like a feast of a thousand appetizers!
But I get the complaint, too: all that work to get to know a new world and a new set of characters, and just as you get attached, the thing ends. To return to the food analogy, sometimes you don't want a thousand appetizers, you want a gigantic pot roast, or a tub of Ben & Jerrys. One delicious thing that you can savor for a long, long time.
Now what about writing short stories? I'm bad at finishing things but I am far more likely to finish a short story than a novel, so to me that's one big point in their favor. I also appreciate that the twist ending is no longer required. It's OK to have a big shocker ending, but it seems more fashionable now to leave a story at an ambiguous point. While this works for me as a writer, it can be pretty unsatisfying for a reader.
So now I turn it over to you: has anyone else noticed an uptick in short-story collections? Do you like reading them? Prefer them to novels? Prefer writing them to novels? Why?