I'm currently reading the scariest dystopian story I've ever read (and I've read a lot):
The Orphan Master's Son,
by Adam Johnson. It won this year's Pulitzer Prize, and it was about North Korea, so I thought I'd give it a go. I knew nothing about North Korea.
Korean children during the Great Famine
The book is fiction, but the story is true enough: that's what makes it so frightening. The novel follows Jun Do (think: John Doe), meant to be a North Korean everyman. We follow his journey from Dickensian orphanage, to surviving the Great Famine in the 1990s (in which millions perished), to his time as a Korean-English interpreter — he ends up at a surreal Texas barbecue with a senator — to, finally, a stint as Kim Jong Il's right-hand man. And since this is one of the worst dictatorships in the world, be assured that with each identity Jun Do assumes, he suffers in new and horrible ways. I had to skim the bit where the tattoo on his chest is sliced off with a boxcutter. (It does happen offscreen; it's still cringeworthy.)
As improbable as this plot sounds, in a land as completely upside down as North Korea, it seems plausible that all this could happen to one man. And Johnson researched the heck out of that strange country, including traveling to Pyongyang, the capital. (I'd like to know how he pulled that trick off without ending up in a gulag.) The details are made up, but the story is not an invention.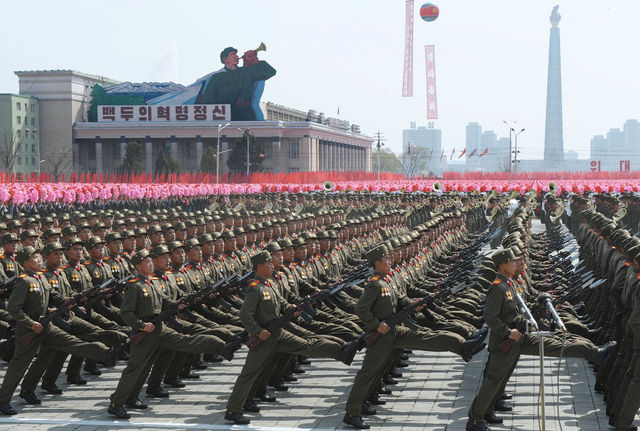 Lockstep love for the Dear Leader
Well, what is a "dystopia," anyway? Why do we always think of it as fiction? We think about books like the
Hunger Games
and
Fahrenheit 451
as cautionary tales, as warnings that we in western democracies better keep an eye on our scurrilous leaders, else we'll have a President Snow forcing our children to fight each other to the death. But there are societies
right now
that are just as bad — worse — than these imaginary dictatorships. I'd rather live in the world of
1984
than in Johnson's North Korea. Both have their Big Brother, but you don't have rampant starvation and frozen gulag hellholes in
1984.
"Dystopia" literally means "bad place." In fiction, a dystopia is usually a utopia where something's gone wrong. Some leader got it in their noggin that they could create a perfect society where everyone would be happy — if only everyone would obey. Usually the government in charge of this "perfection" has become incredibly repressive: you have to control every aspect of a place if you want your ideology to be pure and true for every citizen. Otherwise your plan becomes sullied by other people's ideas.
I've been drawn to dystopian fiction for a long time, and had the pleasure of reading Orwell's
1984
again this year.
The Orphan Master's Son
owes a lot to that book, which might be considered the first dystopian novel. Orwell was thinking about the Soviet Union, so it's not a surprise that the North Korea of Johnson's novel would so strongly mirror Orwell's fictional world: what is it about communism that lends itself so readily to dystopia?
It's not like capitalism is without its flaws. I also read
The Grapes of Wrath
this year, and I just finished
Behind the Beautiful Forevers
by Katherine Boo, a nonfiction book which documents life in a slum in India — as the author says, much of the slum's structure is a result of global market capitalism. But the grimmest pictures painted by capitalism's critics just can't match the world depicted in
The Orphan Master's Son.
Whatever our society's flaws — and we have so many — we are not like that. Thank goodness we are not like that.
Your turn: have you read a fiction book that has affected (or even changed) your views of economic or political systems? What was it, and how did it shape you?