Because we get most of our TV streamed from Netflix or Hulu, we are always behind on everyone's favorite shows. I am all caught up now on Downton Abbey, but we did not watch the season finale with everyone else. Only it almost felt like we did, because everyone was live-tweeting the thing as it unfolded. And when that big shocker ending happened, the entire Internet gasped in unison. I couldn't have missed it without going on a total information blackout till the hubbub died down.
That said, most people were extremely careful not to reveal the
exact
nature of the shocker, because we've all been indoctrinated not to spoil endings — or at least to write "spoiler alert" before we give anything away. This rigid social training helps protect that delight we all feel at the totally-unexpected plot twist. After all, why do we keep turning the pages? To find out what happens next. Even if we're not anticipating a twist, we get invested in a story because we want to know how it all turns out.
But have we gotten a little too fanatical about spoilers? I got hollered at not long ago after I revealed a detail of Philip Pullman's
His Dark Materials
trilogy. For a few minutes I felt horribly guilty, then my guilt shaded into annoyance. That series was published in the mid-1990s: if you wanted to be kept in the dark about all the plot details, why have you waited so long to read the dang books? How long do we have to keep book contents secret? Guess what: Cleopatra hugs an asp (I just spoiled the ending of
Antony and Cleopatra
). The South loses at Gettysburg (I just spoiled the ending of
The Killer Angels).
Rosebud is a sled (I just spoiled one of the biggest — and weirdest — reveals of all; although I will refrain from mentioning which story I'm referring to in case you've been living off the grid since 1941).
I do get that big twists can "ruined" by a premature reveal, but surely there's a statute of limitations on spoiler alerts. If they are old enough and famous enough, stories are pre-spoiled for us —
do Adam and Eve live happily ever after in the Garden of Eden? Shhh! Don't tell me!
And yet, knowing how it ends, we read the story anyway. There's
even some evidence
that knowing how it ends
adds
to a story: think of the literary device that puts the epilogue as prologue: you start with the shocker ending, and the whole point of reading the story is to find out how we got there.
In addition to getting people mad at you, spoiler fanaticism has another downside: it prevents us from discussing the stories we love. I finished Jojo Moyes'
Me Before You
recently, and I
so
wanted to discuss it with friends who'd also read it. But I couldn't, because to do so might have "spoiled" the book for those who haven't read it. The only way around this is to create rigid book-discussion groups, either online or off, where select people seal themselves off to discuss a book. But the formality of these private groups kills something you get from a spontaneous public discussion. On Facebook or at a social gathering, I'd like to be able to say something about Nick and Amy in
Gone Girl
, or talk about who died in the last episode of
Game of Thrones
. (You know
someone's
going to bite it.) But I can't risk it. People get seriously upset. I've seen less rancor in religious debates than when someone accidentally mentions — spoiler alert! — what happens to Wash in
Serenity
.
"I'm a leaf on the — whoops, wrong show!"




In short, I think spoiler alerts are considerate, especially when a story is new and the twist is huge. But I don't think it's reasonable to expect all aspects of a plot to be completely sealed off from you until you get your lazy behind around to reading or watching the thing. (She says, with the utmost affection.) If you don't know that Wesley and the Dread Pirate Roberts are the same person, don't be angry at the person who let this slip at a dinner party. Be mad at yourself for not watching
The Princess Bride
sooner.
How do you feel about spoilers? Are you in the "never ever" camp, or do they not bother you so much? Do you think spoiler sensitivity has gone too far—or not far enough?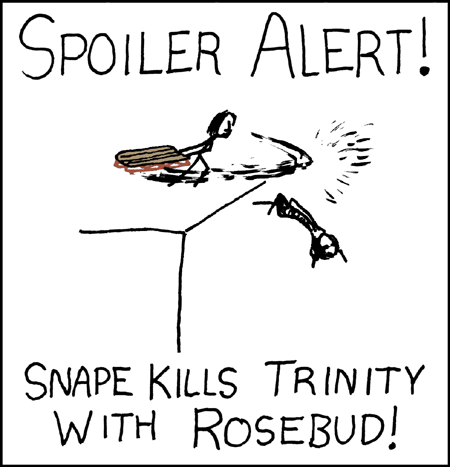 via the comic "xkdc"