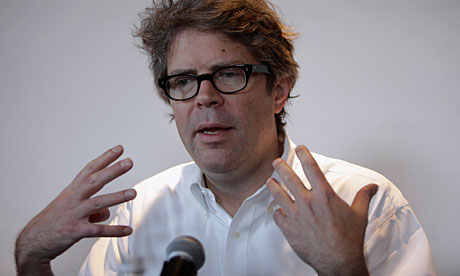 Jonathan Franzen is afraid: should you be, too?
"When I read a book, I'm handling a specific object in a specific time and place. The fact that when I take the book off the shelf it still says the same thing – that's reassuring." This is author
Jonathan Franzen
, speaking on the evils of the ebook earlier this year. Like many über-literary types, Franzen is not a technophile. He would like the publishing industry to stay the way it is, which is to say, aggressively static. "Someone worked really hard to make the language just right, just the way they wanted it. They were so sure of it that they printed it in ink, on paper. A screen always feels like we could delete that, change that, move it around. So for a literature-crazed person like me, it's just not permanent enough ... Everything else in your life is fluid, but here is this text that doesn't change ... Will there still be readers fifty years from now who feel that way? Who have that hunger for something permanent and unalterable?" Franzen's fear of change extends to a dislike of people who disagree with him: if you, dear reader, are a consumer of ebooks, you are not a "serious reader." Not according to Franzen, who might just possibly still be reading books in cuneiform chiseled onto clay tablets.
I hate to break it to Franzen and his fellow Luddites, but the ebook is not going away. As papyrus was superseded by parchment, and the quill was superseded by the printing press, the Kindle will almost certainly be superseded, eventually, by some new bit of technology. The point is that in spite of Franzen's obvious desire to freeze the world in place, things do change. Gutenberg's technology didn't bring the end of civilization (in fact, it might have
helped it along
), and I think it's fairly safe to assume that neither will the inexorable march of the ebook herald the apocalypse.
First, it's worth pointing out that the static-book concept is something of an illusion. Books can change from their original; we call those changes "editions." Orson Scott Card, for example, had the chance to change some things about his bestselling novel Ender's Game, originally published in 1985, but with an "author's definitive edition" released in 1991. Other books have been changed against their author's wills: Huckleberry Finn suffered a more ignominious rewriting when the n-word was recently expurgated by well-meaning but clueless censors. D.H. Lawrence and other authors ahead of their times have had their words changed: the fact that their books were printed in ink, on paper, did not make them immutable. Actually, D.H. Lawrence benefited from the passage of time: unlike Twain, his original words were released in later editions, as reader sensibilities liberalized.
Not "permanent and unalterable"
So, Mr. Franzen, even before the ebook, novels were not always "permanent and unalterable." But they are about to become quite a bit more dynamic, and as writers we have to prepare ourselves for this change.
In 2007, ebooks accounted for one-half of 1 percent of the trade book market, according to an annual survey conducted by the Association of American Publishers. Just a few months later, the Kindle was introduced, followed by the Nook in 2009. Ebooks went from a trickle to a tsunami at that point: their sales and markets have doubled every year since then. In 2011, ebook sales were up 117 percent, representing nearly 20 percent of all book-publishing revenues.
It's not simply that books are moving from paper to digital format, though. The book itself is changing, as indicated by Franzen's fretting over "permanence." Authors can now get immediate feedback on their work from readers, before the book has even been officially published. Authors may begin releasing their books bit by bit, with readers giving feedback nearly in real-time on plot development and character. This means the book becomes something like a collaboration between writer and reader.
Dominque Raccah, CEO and publisher of Sourcebooks, calls this the "agile publishing" model. "You really are publishing into a community already," Raccah says in this
NPR interview
. "So what you are going to be doing is developing that book in front of that community, having the community interact with the author to develop the book [and] provide feedback."
I find this concept rather mind-boggling: exciting, a little bit scary, and full of possibility. We may even need to
rename the book itself
, replacing it with a "word that will describe the digital, transmutable, readable, platform-agnostic, weightless, immersive, elastic creation, hitherto known as a book."
I'm not an especially adept technophile — I always feel I'm limping along after trends, trying to keep up, and missing a variety of revolutionary boats. But I am not afraid of the future, for the most part, and I think some of the changes in the publishing world could go our way, as writers. If e-publishing is a tsunami, we writers have a choice to run screaming from it, or to grab our surfboards and ride this sucker.
What do you see as the pitfalls and possibilities of this frontier in publishing?