Virtual rope burns hurt less
You've probably heard by now:
Fifty Shades of Grey,
the vampireless pornographic fanfic trilogy, has now o
utsold the Harry Potter series
on Amazon's UK site. I know, I know. We don't really want to talk about this. We have better things to think about, like how "-saurus" became the suffix for both a kind of dictionary and a kind of flesh-eating lizard. But we must, people! We must square our little writerly shoulders and meet this information like grown-ups.
After I finished eating a few gallons of ice cream and writing bitchy things in my sparkly pink Hello Kitty diary, I sat down and tried to cope with this news from the world of fictiondom. How do I interpret the public's apparent taste for bad porn thinly masked as a novel? And how should I, as a woman, feel about other women apparently eating up this notion that a really sexy guy is one who hurts you? This is a terribly tangled web to unweave.
First, the bad writing. When I groused about this on Facebook, I was accused of being an elitist who hated anything that was popular. (Although really, that would be more a "hipster" thing than an "elitist" thing: get your pejoratives straight!) This accusation is untrue: I actually liked the Harry Potter series; I also like other wildly bestselling authors like Stephen King and Diana Gabaldon. When I say E.L. James is a terrible writer, I am referring to her ... you know ...
writing
. As in: the words she has committed to paper. Let's have a peek, shall we? (psst: This would be a good time to change the channel if your sensibilities are at all delicate.)
I seem to have lost my handcuffs
My heart starts pounding. This is it. I'm really going to do this. My inner goddess is spinning like a world-class ballerina, pirouette after pirouette.
And, in a separate passage:
I think of my dream … is that what it would be like? My inner goddess jumps up and down with cheerleading pom-poms shouting yes at me.
Oh yes! Ballerinas! Pom-poms! OMG Where's my sparkly tiara?!?
Sadly, these are not the only times James uses the term "inner goddess." When I searched for that term in Google books, I got 45 hits in the first book alone. Forty-five. The "inner goddess" is almost always doing something an eleven-year-old would be doing. Funny, because when I think "goddess" I think "Athena" or "Ishtar." Not "Lolita."
Here's another gem:
"Hard," he whispers, and he slams into me.
"Aargh!" I cry as I feel a weird pinching sensation deep inside me as he rips through my virginity. He stills, gazing down at me, his eyes bright with ecstatic triumph.
His mouth is open slightly, and his breathing is harsh. He groans.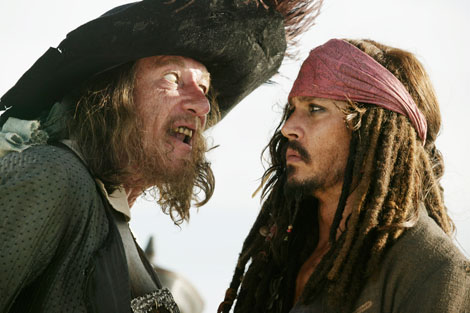 "Aargh!" I cry!
"You're so tight. You okay?"
Right. Where do we even start with this? Who knew losing your virginity to a sadistic billionaire turned you into a pirate? I mean, really. "Aargh?"
To be fair, it's not all like this. I read what I could stand, and there were a few passages that didn't make me wince or snigger. But the excerpts here are fairly representative of James'
prose style
, which is not at all comparable to J.K. Rowling's prose style. Rowling may not be Virginia Woolf or Flannery O'Connor, but she's not cringe-inducing. She's actually pretty clever, and funny. Perhaps more to the point, she is a children's writer. Writing for children. James (one fervently hopes) is writing for adults.
So how does a writer so blatantly talentless end up so wildly popular? I find this truly mystifying, and am ready to hear any theories. One theory is that nobody cares about quality writing anymore, or that we're not trained to recognize it. This doesn't explain why one bit of terrible writing would outsell all the other bits of terrible writing, however. Another theory is that James simply hit a cultural button that overrides any problems with her prose: she tapped into the female sex's latent desire to be pummeled into submission by a strong man.
Who also happens to be a bajillionaire!
It's like the 20th century never happened
Which brings me to my next point: Are women really that stupid? Or backwards? Or warped? I thought the balance of power between Edward and Bella was bad, but this homage to Twilight kicks it up a couple thousand notches. I feel I don't know my own sex at all, if this is what they crave — even in fantasy. I am not judging the desire for woman-centered porn, by the way. As previously mentioned, I'm not squeamish and have no issue with erotica generally. It's the content of
this
erotica that
worries me.
From the passage above, we see Anastasia's blatant childishness, contrasted with Christian's literally sadistic older-male predilections. I find this more than off-putting, I find it truly troublesome. That it exists is one thing — there's a lot of porn out there with overtones of pedophilia. That such material would sell like hotcakes — to
women
— is what's got me confuzzled.
Because it
is
women who are buying this: I don't think too many men are secretly stashing copies under their Sports Illustrated magazines. In fact, men seem remarkably uninterested in sub-dom fantasy, from what I understand: at least in terms of book-buying. Man-books seem to concentrate rather heavily on spies and guns. When they buy sexual fantasies, they're in DVD form, not book. We've all seen these movies: they are focused almost entirely on the man bringing vast swaths of women to limp-limbed satisfaction. There's not a lot of pain involved. I'm sure the pain market exists for men, but not in the numbers we're seeing for Fifty Shades.
Is it related to socio-economic background? Are the women reading this uneducated and therefore socialized to believe that women should be submissive to men — should find that kind of powerlessness sexy? Not from what I've seen: the women I know who've read this are college-educated and relatively liberal: they've got enough Susan Sontag under their belts to resist that kind of indoctrination.
Pro tip: This isn't what "grown-up" means.
In a discussion of this elsewhere, friends pointed out that sadomasochistic "romance" isn't a new phenomenon: Harlequin romances (and the like) have long revolved around on the domineering male overpowering the initially-resistant female. But if Harlequins were already out there, filling this demographic demand, why weren't they also selling like hotcakes? No romance, no work of erotica, has ever sold as well as this trilogy. It must offer something beyond the average romance novel. What is it?
One thing we can agree on: it's not the quality of the writing.
What do you think? Have you read the books? How would you describe the writing — and to what do you attribute James' runaway success? Is there some lesson aspiring writers should take away from this phenomenon?